Introducing... our new line of Metal Bond Diamond Tooling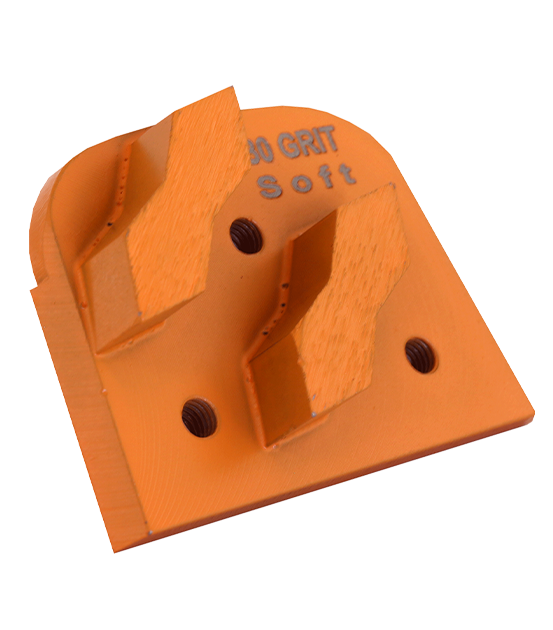 Diamond tooling is comprised of manufactured industrial diamonds set in a matrix  — solid material that suspends and secures the diamonds in place as they interact with the concrete dust produced in the grinding & polishing process. The hard diamonds scratch the concrete, separating fine concrete particles from the surface, creating the abrasive dust that in turn wears down the matrix, exposing more diamonds as you progress, which continue cutting into the floor.
The design of the matrix material is where the magic happens. It is most often made from a proprietary blend of metal alloys, or molded resin, in an infinite spectrum of innovation, chemistry, and physics.
The goal is to find the "sweet spot" by balancing the hardness of your diamond bond with the hardness of the concrete you are working with, to achieve effective cutting or polishing at a pace that is fast enough to be productive, but not so fast that you are burning through your valuable tooling quicker than necessary. 
Utilizing coarse grits For rough grinding and profiling of concrete
The primary line of metal bond tooling offers a simple and streamlined collection of:


Three  color-coded bond choices:
PURPLE – for use on Soft to Medium concrete
ORANGE – for use on Medium to Hard concrete
GREEN – for use on Hard to Very Hard concrete


Four GRITS: 16, 25, 40, 80


Two segment shape options: Single or Double
In addition to the standard grinding tooling, we have developed the WHITE series specifically for the removal of a wide range of coatings (adhesives, mastics, mortar, epoxy, etc). These products include several PCD configurations, carbide scrapers, and other specialized items.
Finally, we have the BLACK series, featuring specialty tooling for when only the most aggressive approach will get the job done.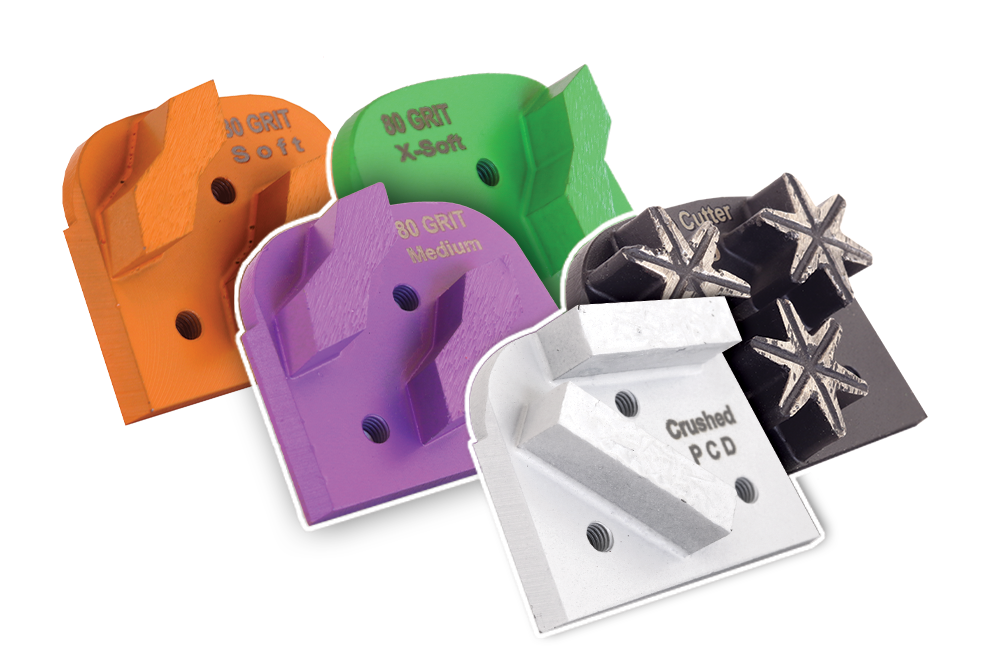 Finer grits for the later stages of polishing concrete to a high-gloss
Our new Resin Bond diamonds transition seamlessly from grinding to polishing, with several options to choose from:


HYBRID Resins in the mid-range grits (50–400) for either WET or DRY use.


STANDARD Resins are offered in the higher grits (400–3000) for the final rounds of high-gloss polishing.