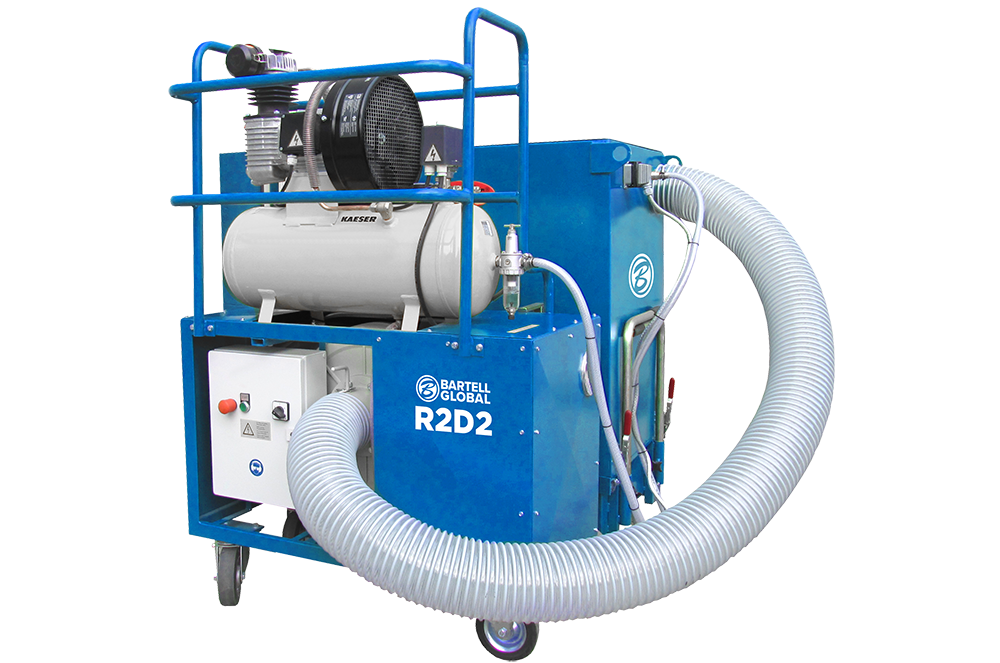 DUST EXTRACTORS
R2D2
Built in two units for easy transportation
Collect debris in either a wheeled bin or plastic bags
Filters are automatically cleaned during operation
Build Your Package

Product Description
The cartridge filters are automatically cleaned during operation by compressed air. The R2D2 is built in two units for easy transportation. The power unit includes all the electronics and components such as ventilator, motor and compressor. The filter unit includes the filter cartridges and the dust container(s). On site it is easy to connect the two units to form one machine. The filter unit is available in two versions. The first version collects the dust in a wheeled compartment. The second version collects the dust in buckets equipped with plastic bags.
Technical Specifications
POWER UNIT
Voltage
480V
Frequency
60Hz
Phase
3
Current Consumption
12.2A
Motor Rating
5.5kW
Motor Nominal Current
10.2A
Motor RPM
2935
Weight
483 lbs (220kg)
Height
61.5" (156cm)
Length
40.2" (102cm)
Width
20.5" (52cm)
Air Flow
1342 ft3/min (38m3/min)
Depression
10150 Pa
Ventilator RPM
6350
FILTER UNIT - CONTAINER
Weight
379.2 lbs (172kg)
Height
56" (141cm)
Length
43" (108cm)
Width
32" (80cm)
Filter Area
10 m2 (5m x 2m)
Filter Cartridges
5
Capacity Dust Bind
160 liters (alternative 90 liters)
Dust Port Diameter
50, 70, 125 mm
Filter Cleaning
Automatic, Air Pressure
COMPRESSOR
Motor Rating
1.7kW
Motor Nominal Current
2A
Motor RPM
1500
Build Your Package
Choose from the options below, then click 'Add to Quote Cart' button.