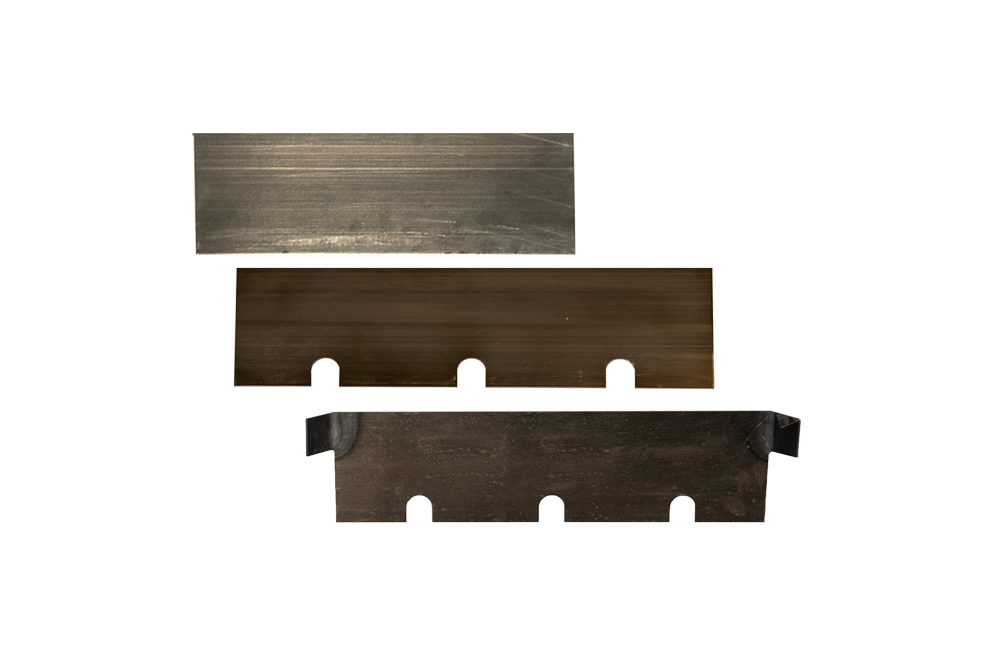 TERMINATOR TOOLING
Scraper Blades
Four thickness options
Notched or No-Notch design for added control
Self-Dicing design for efficient carpet removal
Choose Your Blade
Blade Features
Blade Thickness
FLEX
Flex blades are used when you need more flexibility out of the blade so that it contours to the floor better. This is helpful when removing softer materials such as coatings or adhesives
STANDARD
Standard Blades are the most common thickness of blade as they are very versatile. If you are removing different types of flooring often, these are a great all around blade to use on a variety of materials.
HEAVY
Heavy blades are generally used when increased durability and rigidity is desired. For example, when removing materials such as VCT and other tough soft materials, these blades will hold up.
SUPER-DUTY
Super Duty Blades are used when extreme rigidity is required. They are the thickest blade offered for the Terminator Series
Blade Notches
NOTCHED BLADES
Notch blades excel at the removal of materials such as VCT, Linoleum, glue, and a variety of coatings and other soft materials. Notch blades gives you more rigidity as you scrape, which make them ideal for mainly VCT and Linoleum removal.
NO-NOTCH BLADES
No-Notch Blades are used to remove VCT, Linoleum, glue, and a variety of coatings and other soft materials. The No-Notch design gives the blade more flexibility in the holder, helping you to remove softer materials such as glue, adhesives and other soft coatings as the blade will contour to the curves of the slab better.
Self-Dicing Blades
When removing carpet, dicing blades help drastcially by cutting the carpet into strips as you remove the material. This lets the carpet come up easily and then roll into easy to clean up sections that make the process much quicker.
Choose Your Scraper Blade
Choose from the options below, then click 'Add to Quote Cart' button.